Hello!  I just can't stay away from those Japanese DIY candy kits.  I've dipped bananas into chocolate, created candy apples, and whipped up ramune flavoured goo.  Today's post is about a DIY candy kit of a different kind… a DIY drink!  Yep, I'm serious!  This is the Kracie PukaPon DIY Candy Kit.
Kracie PukaPon DIY Candy Kit – Grape
$2.49 – OyatsuCafe
Yet another item I received from an OyatsuBox *chuckles to self*.  The Kracie PukaPon DIY Candy Kit was an item that immediately caught my eye.  I have never heard of a DIY candy kit where you make a drink containing swimming candy fish.    You read that correctly.  Swimming fish…. in your drink!   When I found myself a spare 10 minutes on a Saturday afternoon, I excitedly dived in.  Dived in… geddit? *tumbleweed*
The PukaPon DIY Kit consists of two sachets, one blue and one pink.   The instructions state you will need 120ml of water, but I used half of a half pint glass as it was the nearest thing I had to measuring.  I don't think the amount really matters, as my drink was fine.  I think if anything, it's best to have less water as it means the taste is stronger.
Step 1! Add the blue packet into the glass.  You can just about see the small candy fish in the mixture.  I'll admit I gave them a few prods so I could photograph them.
Step 2! Add the water.   The water will turn a fetching blue/purple shade.  It's so pretty isn't it?
Step 3!  Add the pink sachet to the water.  The water will then turn pink.  I was initially disappointed that the fish remained stuck at the bottom.   Swim for me fishes, swim!   At first, they were slowly bouncing up and down in the glass as a large clump.   Enraged,  I gave the water a good stir.   Nothing happened.   There was a little bit of fizzing, but nothing started to swim.   Alas a few moments later, almost as if the fishes picked up on my telepathic brain waves of rage, the fish began to swim up and down.  I was a little disappointed that the fish didn't swim around the glass, but then again, up and down is still impressive.  They swam up for a while, and could have kept on going… until thirst got the better of me!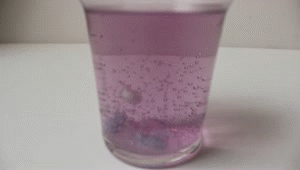 Well I don't think I'll be setting YouTube alight with my amazing video skills any time soon.. do you? 
The drink was surprisingly refreshing; if you're a fan of the muscat grape taste I think you'll like this.   It quenched my thirst nicely.    I was worried about an artificial aftertaste, but to my surprise there wasn't one.  There wasn't even a grape aftertaste, strangely.
After I finished the drink I fished out the candy fish to see how they tasted (fished out… geddit? *more tumbleweed*).  They had a sour ramune flavour, and they fizzed like crazy in my mouth.  Even though they had been swimming around in the drink, they were still crunchy and hard to bite into.
Despite the initial hiccup with the non-moving fish, the PukaPon kit ended up being a fun kit.  I'm not sure I would go out of my way to try it again myself, but I would definitely buy it as a gift for a friend.   I can imagine kids in particular having a whale of a time with this kit! *tumbleweed packs its bags and leaves*
Has this DIY candy kit CAUGHT your attention? I'll stop now…
Dannie x